Common Cents - June 17, 2020
In last month's Common Cents article, I wrote about the virtues of mothers in recognition of Mother's Day.   As we approach Father's Day, it is fitting to pay tribute to our fathers.
For many of us, when we think of the term "Father" various word pictures, terms and thoughts come to mind: strong, wise, shrewd, tight, generous, loving, stoic, integrity, character, leader, disciplinarian, provider, hard worker, mentor, friend.    
My favorite story about a father is found in the Bible and is referred to as the story of the prodigal son.   You may be familiar with the story but what I find particularly interesting, encouraging, and thought-provoking is the father's response upon seeing his son in the distance walking toward home.
"So he (the son) got up and went to his father. But while he was still a long way off, his father saw him and was filled with compassion for him; he ran to his son, threw his arms around him and kissed him." Luke 15:20
My conclusion is this: As father's let's take time to hug on and love our children irrespective of what erroneous and foolish decisions they sometimes make.   As children, let's respect the wisdom of our fathers and embrace their love and compassion.
Blessings to all and Happy Father's Day.
PS: Many in the community have asked about my 87 year old mother who, as mentioned in the May article, was battling a plethora of serious physical and mental ailments including late-stage Alzheimer's, Covid 19, and pneumonia.   Amazingly, she has fully recovered physically and is back in the nursing home.   Thank you for caring.
Common Cents - May 6, 2020
In recognition of Mother's Day on May 10, I want to thank all the mothers in our community who daily exemplify courage, strength, compassion, selflessness, and kindness. As we continue to persevere through these trying time, let's take time to be grateful for our many blessings – especially the gift of a Mother's love.
"A Mother's Love,"
Helen Steiner Rice
A Mother's love is something                                                                                      that no one can explain,                                                                                               It is made of deep devotion                                                                                        and of sacrifice and pain,                                                                                             It is endless and unselfish                                                                                          and enduring come what may,                                                                                   For nothing can destroy it                                                                                            or take that love away,                                                                                                 It is patient and forgiving                                                                                           when all others are forsaking,                                                                                      And it never fails or falters                                                                                       even though the heart is breaking,                                                                                It believes beyond believing                                                                                     when the world around condemns,                                                                             And it glows with all the beauty                                                                                    of the rarest, brightest gems,                                                                                       It is far beyond defining                                                                                                it defies all explanation,                                                                                             And it still remains a secret                                                                                        like the mysteries of creation,                                                                                       A many splendored miracle                                                                                          man cannot understand,                                                                                              And another wondrous evidence                                                                                   of God's tender guiding hand.
As I write this article, I think of my own mother who has late-stage Alzheimer's disease and is hospitalized with complications from COVID-19 but who has been a blessing to so many people for 87 years.   "Her children arise and call her blessed…" Proverbs 31:28
Common Cents - March 20, 2020
THB KEEPING YOU INFORMED
We have taken a number of steps to continue serving our customers while keeping our customers, staff, and community safe and healthy during this coronavirus situation.  Effective March 23, 2020, in keeping with social distancing best practices, as established by the CDC and the WHO, our branches will be accessible by drive-thru window or appointment.  If you need to schedule an appointment with our loan department, retail department, or access your lock box call (419) 542-7726.
WAYS WE CONTINUE TO SERVE CUSTOMERS
We offer multiple ways to access your funds safely: 
     • Drive-Up Window
     • Walk-Up Window- Hicksville Location
     • Night Depository
     • Online Banking
     • Mobile Banking
     • Telephone Banking
     • ATM Machines
BEWARE OF FRAUD
THB will NEVER contact you asking for your Social Security number, account number, card number, PIN, or password. If you receive a communication like this, do not click any links or provide any information.  Scammers are becoming more sophisticated and more aggressive than ever with their efforts to compromise your information, so it's important to stay vigilant.
THB IS HERE TO SUPPORT YOU DURING THIS UNPRECEDENTED TIME
As your "Hometown Bank" we are committed to supporting your banking needs.  If you've been financially impacted by the coronavirus, please call for assistance so that we can work toward a solution for your unique situation. 
ATM LOCATIONS/PHONE NUMBERS
Main Office - 144 East High Street, Hicksville, (419) 542-7726
Edgerton Branch - 304 North Michigan Avenue, Edgerton, (419) 298-2353
Auburn Branch - 1130 West 15th Street, Auburn, (260) 927-1700
Thank you for your consideration, patience, and understanding.  We value the trust you place in us to provide you the safest access to your funds during these unusual times.
Kind Regards,
Greg Smitley
President and CEO
The Hicksville Bank
Common Cents - January 1, 2020
Not Everything Is as It Appears
Recently, I refinanced my home mortgage loan to take advantage of near-record low interest rates (as an aside, mortgage interest rates are still exceedingly low). A few days after our loan closing, a very "official looking" envelope came in the mail addressed to me with a bold heading of "Important Notice to: Gregory Smitley. Please complete and return".   In the letter, it described various pieces of information about my mortgage loan such as loan amount and property address all of which is a matter of public record through the County Recorder's Office.    
This letter also asked me to answer a number of other personal questions such as occupation, date of birth, gender, telephone number(s), and the like. Of course, NONE of this information is a matter of public record.
The real point of the letter was to get me to apply for mortgage life insurance with a company I have no familiarity with and one which certainly is not associated with The Hicksville Bank even though they created the letter to make it look like it came from The Hicksville Bank.
I don't have a problem with the idea of having enough life insurance to pay my mortgage in the event of my death so that my wife is not burdened with mortgage payments. However, I have a serious problem with a company that makes it look like they are associated with our bank in order to sell a product when, in fact, they are just trying to trick people into providing information and/or buying products.
My point is this: if you ever receive a communication from your bank (be it THB or another bank) and you question the validity of the communication, call the bank and ask about it.   As the old saying goes, "Better to be safe than sorry".
Common Cents - December 1, 2019
For to us a child is born,
to us a son is given,
and the government will be on his shoulders.
And he will be called
Wonderful Counselor, Mighty God,
Everlasting Father, Prince of Peace.
Isaiah 9: 6,7 (NIV)
All of us at The Hicksville Bank extend best wishes to our customers and our community for a blessed Christmas and a joyous, healthy, and prosperous New Year!
Common Cents - November 1, 2019
As we prepare for the upcoming Thanksgiving holiday, I count my many blessings and realize I'm just scratching the surface.   Among the many things I'm thankful for, I include:
Making new friends in the community in my short time at The Hicksville Bank.
Working with a fine group of individuals at The Hicksville Bank.
The encouraging harvest yields after seeing our farming community experience such a challenging planting season.
The community pride I see and feel in Hicksville.
The Hicksville Rotary Club.
The beautiful school building and excellent teachers and administrators at Hicksville Schools.
The dedication and helpfulness of our local law enforcement officers.
The dedication and service of the mayor, village council members, and all elected officials.
The good food at our local restaurants.
The passion of the local business community to make Hicksville a thriving village.
The dedication and admirable service of administration and staff at Hicksville Community Memorial Hospital and Hickory Creek Nursing Home.
The vibrant, active faith of many of our ecumenical leaders.
Clean water provided by the Village of Hicksville.
The joy of family and friends.
My beautiful bride of 41 years, my 3 children and 3 grandchildren.
The opportunity to serve the banking and financial needs of our community.
"Give thanks to the LORD, for He is good; his love endures forever." 1 Chronicles 16:34
Common Cents - October 1, 2019
Question: Recently, a number of people have asked me what is the overnight repurchase agreement (repo) market, why is the Federal Reserve buying Treasuries again, why is the overnight repo market experiencing interest rates in the 10% range, and what does it really mean?  
Answer: Here is an explanation provided by our investment broker, Taylor Currie, from The Baker Group:
"It's a perfect storm of Primary Dealers having to pay for bonds they couldn't sell from recent treasury auctions.  And these auctions have become larger because of the larger deficits (this is how we fund the deficit by issuing debt). Also, the dealers took on a lot of bonds from the sell-off we had a couple of weeks ago.  Consequently, they find themselves with a ton of inventory they have to finance.  They do that through the overnight repo. market.  What's happened is we now have too many bonds that need to be repurchased and not enough liquidity to cover them.  Thus, we see overnight repo. rates that have hit as high as 10%.  The Fed (Federal Reserve Bank) is coming in and "buying" treasures to help alleviate the squeeze." 
In my layman's language, it appears that due to some market timing issues, there are too few investors willing to buy government bonds that are now in the hands of the Primary Bond Dealers. Therefore, the law of supply and demand is starting to kick in.   Too much inventory in the hands of the Dealers means investors are demanding a higher rate to entice them (the investors) to buy the inventory (U. S. Treasury Bonds).
This is likely a temporary timing issue but, if there are any substantive changes forthcoming, keep an eye on this column for further updates.  
Common Cents - September 1, 2019
Question: Why do I have to sign so many documents when I do business with a bank?
Answer: Certainly, bankers get just as exasperated and frustrated as the customer in the amount of paperwork that is required to take out a loan or open an account.   I'm showing my age a bit, but when I started in banking, a promissory note was a half-page document – that's it. No other disclosures or documents.
Unfortunately, over the years, there have been some unscrupulous lenders – usually not community bankers – who took advantage of people and wrote some very lopsided and onerous contracts.   These actions prompted Congress to enact a whole host of regulations.   Believe it or not, the regulations started with an alphabetic letter (Regulation A, for example).   Now, we are well past Regulation Z and have begun to see double letters (Reg. CC for example).   In fact, it's to the point now that new regulations are not even given an alphabetic label but, instead, are given long names such as the Truth in Lending Act-RESPA Integrated Disclosure Rule ("TRID" for short).
Bankers also experienced additional account disclosure requirements after the 911 tragedy with the passage of the U.S. Patriot Act and similar types of regulations which attempt to more fully identify account holders.   With the proliferation of drugs and underground illicit activity, the government is attempting to track down criminals by tracking the flow of large cash transactions. Of course, this adds another layer of regulation.  
Unfortunately, the good people of this world are being inconvenienced by the ever-increasing number and activity level of bad guys and the regulatory burden and overreach will likely not abate in the short-run.   Bankers, including the fine people at The Hicksville Bank, will attempt to streamline processes wherever possible.   Maybe one of these days we can get back to half-page documents again – about the time we see gas selling for 5 cents a gallon.    
Common Cents - August 1, 2019
Just about every day we read or hear about data breaches, identity theft, or some variation of both. Certainly, as our culture becomes more obsessed with and dependent upon technology, criminals will attempt to find some way to take advantage of all opportunities to benefit from our miscues.
Question: What is identity theft?
Answer: According to one author, the term identity theft was coined in 1964 and it is the deliberate use of someone else's identity, usually as a method to gain a financial advantage or obtain credit and other benefits in the other person's name to the other person's disadvantage or loss. In fact, once identity thieves have your personal information, they can drain your bank account, run up charges on your credit cards, open new utility accounts, get medical treatment on your health insurance, or file a tax return in your name and get your refund.
Clues that someone has stolen your information include:
You see withdrawals from your bank account that you can't explain.
You don't get your bills or other mail.
Merchants refuse your checks.
Debt collectors call you about debts that aren't yours.
You find unfamiliar accounts or charges on your credit report.
Medical providers bill you for services you didn't use.
Your health plan rejects your legitimate medical claim because the records show you've reached your benefit limit.
A health plan won't cover you because medical records show a condition you don't have.
The IRS notifies you that more than one tax return was filed in your name or that you have income from an employer you don't work for.
You get a notice that your information was compromised by a data breach at a company where you do business or have an account.
Question: What are the causes of identity theft?  
Answer: Certainly, some identify theft is perpetrated due to data breaches by private companies and even by the government itself as witnessed by the recent data breach of the Social Security Administration.   However, the main culprits appear to be such things as using weak information security passwords, not changing information security passwords frequently enough, and opening email attachments from phishing scammers. In short, many victims invite trouble on themselves by ignorance, laziness, or inattention to detail.      
If you believe you have been the victim of identity theft, you have certain rights including:
Create an FTC Identity Theft Report.
Place a one year fraud alert on your credit report.
Place a seven year extended fraud alert on our credit report.
Get free copies of your credit report.
Get fraudulent information removed (or "blocked") from your credit report.]
Dispute fraudulent or inaccurate information on your credit report.
Stop creditors and debt collectors from reporting fraudulent accounts.
Get copies of documents related to identity theft.
Stop a debt collector from contacting you.
It's time we make it more difficult for criminals to cease profiting at our expense. We need to be more diligent in information security matters, more cautious in how we handle our online activities, and more aware of identity theft pitfalls. For more information about identity theft and your rights if you are a victim, please visit www.identitytheft.gov.
Common Cents - July 1, 2019
Question
When is the best time to refinance my mortgage loan?
Answer
Interest rates have been in the news lately with the talk that the Federal Reserve may lower short-term interest rates in the near future. In fact, as recently as six months ago, 30-year mortgage loan rates were as high as 5.25% whereas present mortgage interest rates for a 30-year loan are hovering around 4%. The best answer to this question reminds me of an economics professor I once had in banking school.   He told our class that he could give us a fool-proof answer to any question related to finances. His answer? "It depends."
In this case, "It depends" is probably the most accurate answer to the question about the best time to refinance because the answer depends on a number of factors; the difference between the old interest rate and the new interest rate, the amount of mortgage closing costs that would be incurred, and lastly, on how long the new mortgage would stay in place.
So, let's use a hypothetical situation to address the "it depends" variables.   Let's assume the following for a 30-year mortgage loan with $2,700 in mortgage refinance closing costs:
ORIGINAL LOAN
$100,000 at 5.25% interest rate for 30 years = $552 monthly principal and interest payment
PROPOSED REFINANCE
$100,000 at 4.00% interest rate for 30 years = $477 principal and interest monthly payment
MONTHLY MORTGAGE SAVINGS = $75          BREAK-EVEN PERIOD = 36 months
Thus, in this scenario, it would take the home-owner 3 years (36 months) to recoup the cost of the refinance fees from the savings on the monthly payment. Thus, if the home-owner planned to keep the mortgage longer than 3 years, it might make sense to initiate the refinance. On the other hand, if they plan to sell the home or otherwise change the mortgage within the next 3 years, it would likely not be worth pursuing a refinance.
In short, there are a number of variables to consider when thinking about refinancing a mortgage loan and, other than "it depends, there is generally no single right or wrong answer.   We would be pleased to review all the options available to you – along with all the pros and cons – with no pressure or no obligation.   Please let us know how we can help you.
Common Cents - June 1, 2019
Question
Why do commercial mortgage rates always differ from residential mortgage rates?
Answer
This is a question I get asked frequently so I'll try to tackle it here.
Fixed rate residential mortgage loans have a very strong and active secondary market meaning that lenders who originate residential mortgage loans – be it a bank or a mortgage broker - are able to sell these mortgage loans immediately to a third party.   Typical third-party purchasers would be names like Fannie Mae, Freddie Mac, and Federal Home Loan Bank.   These third-parties then sell the purchased mortgage loans to investment firms who, in turn, package them and sell them as mortgage-backed securities to firms like insurance companies, pension funds, banks, and others who utilize them in their investment portfolio.
The advantage to the originating lender in selling the mortgages to the secondary market is the lender is not tying up its funds for 30 years and is also not taking the risk that rates will rise in the future such that the cost of paying interest rates to depositors exceeds the rate they are earning on the mortgage loans. This phenomenon is known as interest rate risk. Interest rate risk is what decimated the savings and loan industry in the early 1980s.  
Therefore, because of the reduced risks brought about by the advent of the secondary market, lenders – including Hicksville Bank - are able to offer long term fixed rate residential mortgage loans at a much lower rate than if they held the loans in their own portfolio.
With respect to commercial mortgages, there is a limited secondary market (generally limited to government guaranteed loans) so the originating bank will be holding the loan in its portfolio for the duration of the loan. Hence, in addition to interest rate risk, the bank then becomes subject to additional risks including credit risk (risk of borrower default), market risk, and legal risk. Therefore, banks typically utilize some form of adjustable rate mortgage loan or balloon mortgage loan to help compensate for the additional risks.
In short, comparing residential mortgage rates to commercial mortgage rates is a bit like comparing the proverbial apple and orange.   While residential and commercial mortgage loans are both mortgage loans, they are really two distinctively different products.  
Common Cents - May 1, 2019
Congratulations to Gary Applegate on his submission of "Common Cents" being selected as the name for my column. Many thanks to all that took time to participate in our naming contest.
Community banks build communities and are an integral part of Main Street; they reinvest local dollars back into the community and help create local jobs. Their relationship banking philosophy is ingrained in the way they conduct business, one loan—one customer—at a time. Local reinvestment helps small businesses grow and helps families finance major purchases and build financial security.
Question: What Sets Community Banks Apart
Answer: Local Focus: Unlike larger banks that may take deposits in one state and lend in others, community banks channel their loans to the neighborhoods where their depositors live and work, which helps local businesses and communities thrive.
Relationship Banking: Community bank officers know their customers and may consider family history and discretionary spending in making loans. Megabank loan officers apply impersonal qualification criteria, such as credit scoring, without regard to individual circumstances.
Community bankers also work hand in hand with customers to ensure they have access to the best innovations possible to meet their needs—such as the most secure, reliable and convenient payment options.
Lending Leadership to Small Business: According to the Federal Reserve's Small Business Credit Survey: Report on Employer Firms, community banks are the small business lender of choice. 73 percent of independent businesses that used community banks report they were satisfied with their overall experience, compared with 49 percent for large banks and just 35 percent for online lenders.
Independent businesses that apply for loans with community banks are the most successful and the most satisfied.
Timely Decision-Making: Community banks offer nimble decision-making on business loans because decisions are made locally. Megabanks must often convene loan-approval committees located in another state, far away from their customers.
Community Engagement and Accessibility: Community bank officers are typically deeply involved in their local communities, while megabank officers are often detached from the communities where their branches are located.
As local small businesses themselves, community banks only thrive when their customers and communities flourish. They answer to Main Street – not Wall Street.
March 27, 2019
Greg Smitley has been selected to succeed Larry Coburn as President of The Hicksville Bank.  The following is an excerpt from a recent interview with him.
Question: Greg, what are your qualifications to lead The Hicksville Bank?
Answer: I like to say I started my banking career from the ground up beginning as janitor at the First National Bank in Portland, Indiana.   I have since accumulated almost 40 years' experience at being a community banker including 6 years as President/CEO of a community bank located in Markle, Indiana, and 20 years at Grabill Bank serving in multiple capacities culminating as Executive Vice President and head of lending.   I also served two years as a Director for the First Bank of Berne prior to joining THB.  In addition to hands-on banking experience, I have gained educational knowledge as a graduate from the American Bankers Association National Commercial Lending School at the University of Oklahoma and the Graduate School of Banking at the University of Wisconsin.   I also served as Chair of the Banker's Advisory Board and as a faculty member for the Graduate School of Banking.
Question: Why were you interested in pursuing this position?
Answer: Certainly, living in East Allen County for almost 25 years enabled me to be somewhat familiar with Hicksville and the general geographical area.   The Hicksville Bank has earned a well-deserved reputation as a solid community bank with strong capital, experienced and dedicated staff, and a desire to serve their customers and community. These ideals closely matched my ideals for what a community bank should look like and I'm thrilled to have the opportunity to be a contributing member to this outstanding community bank and to this fine community.
My personal banking philosophy is summarized by a quote from Chuck Noll, "Champions are champions not because they do anything extraordinary but because they do the ordinary things better than anyone else." We want to do the "ordinary bank things" better than anyone else; things like giving friendly, timely, and professional service, providing excellent loan and deposit products, and offering considerable community support.
Question: What are your immediate plans for the Bank?
Answer: My first goal is to get to know our staff and our customers; to identify what we do well, where we might need to improve, and how we can best serve our customers and our community. To that end, I'm trying to meet as many people as I can as quickly as possible.        
Question: What are your plans for "Dollars and Sense"?
Answer: Larry Coburn did a fine job creating and writing "Dollars and Sense" so we want to honor him by letting "Dollars and Sense" be his legacy.   We are renaming the column, and we want your help. You can submit your entry by e-mail gsmitley@thb.bank or drop it off to our lobby receptionist. Entries will be accepted through April 24 and the winner will receive a $50 cash prize. The selection committee made up of Hicksville Bank employees will choose the winner, who will be announced in the May 1st edition of the News Tribune. We plan to publish our new – yet unnamed – column the first week of each month.    
February 6, 2019
When I first began writing the Dollars and Sense column approximately 10 years ago, my purpose was to offer advice to any who may have questions concerning their financial wellbeing. Many of the questions were sent to me and others were from questions individuals had asked me during the course of my day to day activity as a banker. No question was ever considered too simple for me to answer. What might seem basic to one person might be more difficult for another. Over the years, a lot of you have told me how much you enjoy the questions and my answers which has made it all worthwhile and time well spent. However, as much as I have enjoyed doing it, this is my last one.
I would like to leave you with some final thoughts on financial matters that apply to all of us regardless of your financial status. Save for the unexpected events that are bound to occur, manage your debt according to your income, have a financial plan for retirement and please take the time to educate your children and grandchildren on financial matters. Do these things and your financial condition, and that of your family, should be in pretty good shape. Money isn't everything but since we work hard for it, we should use it wisely.
As for teaching our children, I firmly believe that educating them on financial matters now can reduce the use of our tax dollars to support the next generation. Our broken welfare system has created 2nd and even 3rd generation welfare recipients. In support of my desire to address this issue, The Hicksville Bank, "Your Hometown Bank", introduced a program several years ago in our local schools to better educate our youth on financial matters. Thanks to teachers like Marilyn Leon, hundreds of Hicksville students have taken advantage of these classroom programs and we are very pleased and proud to provide this needed service to our young people. However, this does not erase our responsibilities as parents and grandparents to do more in this area.
Please accept my sincere appreciation to all of you who have followed the column. My wish is that each of you will enjoy good physical and financial health and much happiness.
Larry Coburn
President/CEO
The Hicksville Bank
Dollars and Sense – January 30, 2019
Question: I'm shopping for a new car and they are suggesting a 72 months loan. What is the benefit to this?
Answer: The only benefit I can think of is smaller payments. Other than that, I am not a big fan of stretching payments out that long. Paying on a car loan for 6 years is too much. Unfortunately, this is the only way some can make the payment. At some point during this 6 years period, unless you had a substantial amount down, the value of the car is likely going to be less than you owe on it. You are simply not going to reduce the balance of the loan fast enough to stay below the value of the car. I won't tell you not to do a 72 months loan but I will tell you to do it only as a last resort. Paying for a car this long means that you will likely be having repair bills to go along with your car payment before it is paid off. If you do stretch the payments out that long, double up on a few payments to get it paid off early.
Question: Are there any circumstances under which you would be better off renting than buying a home?
Answer: The only circumstance I can think of is if you just can afford the expense of buying a home. Aside from that, I can't think of any reason where it would be better to rent than to buy a home. Rent is not deductible for tax purposes. Interest on your mortgage is deductible. Theoretically, over the years you will be building equity in a home that you own. Most people who rent do so because just paying rent is much less expensive on their monthly budget than making a house payment and paying taxes, insurance and upkeep on the property. Homeownership has always been the "American Dream" for most people. That doesn't mean it's right for you because there is a lot of expense to owning your own home and not everyone can afford it.
Question: What is the idea behind our government imposing tariffs on other countries when they sell products to us in the USA?
Answer: For many years, more products have been brought into our country than have gone out of our country to consumers in other countries. They refer to it as a trade imbalance or trade deficit. What the current administration is trying to do is help businesses in our country. Products are made cheaper in other countries primarily because labor is cheaper because many of these other countries are Socialist and government controls wages. No administration prior to this one has had the strength to address this trade imbalance for fear of hurting our relationship with allies. It's a bold move for sure. However, I am 100% in favor of doing whatever it takes to help manufacturers and businesses here at home. Either one of two things will come from this. Either foreign countries will allow more American companies to sell their products in their countries or, the prices on foreign products will be increased because of the tariffs which would allow American companies to compete on prices. Either way, we win. However, there is a risk to our relationships with these other countries. I think the risk is worth it.
Dollars and Sense – January 16, 2019
Question: My spouse and I are discussing what type of debt we should pay off first when we have extra cash. What is your opinion?
Answer: If you have credit card debt, that should be the first to go. The interest rate is usually higher and it is the type of credit that can get you in trouble the quickest. Pay it first. If you don't have credit card debt, the next in line for getting paid off quickly is other consumer type debt like auto loans, boat loans or some other consumer purchase you financed in order to buy it. The only other debt that should possibly be paid off before these, if you have it, is student loan debt. I have seen some staggering statistics on the average amount owed on student loans after young people get out of college. The last in line for early payoff should be the mortgage on your home. It's the only debt on which interest can be deducted for tax purposes and the rate of interest is normally the lowest of all types of debt. The fact that this is a subject that is even being discussed by you is a positive thing. Any family that has debt should be having this discussion when they have excess funds with which to liquidate debt ahead of schedule. You are smart to be thinking about this.
Question: Any advice on how to make grown children more financially responsible when they have serious spending problems?
Answer: It sounds like you should have worked on this while they were still under your roof instead of waiting until they are grown children. Your chances of educating them now are way lower than doing so when they are still your dependent. This is potentially one of our nations biggest problems in the future. We are educating our kids on everything except what is most important. However, if your adult children are still receptive to your advice, it certainly won't hurt for you to try to get them back on the right track with their spending habits. There is one thing I will add. If you are being asked by your grown kids to help them financially and they have bad spending habits, you have every right to speak up whether they want to here it or not. As a matter of fact, if they refuse to hear it, you don't owe them a dime of assistance. Period. Being a parent is not a lifetime commitment of financial support I don't care how much you love your kids.
Question: Are you encouraged about our countries finances by what you see happening in Washington, D.C.?
Answer: I don't see any reason to be encouraged at this point. The decisions being made in D.C. are not about what is best for us the tax payers. It doesn't matter how great an idea is. The opposing party is not going to vote for it because they don't want to give credit where it is due. It's that way on both sides of politics and it makes me sick to my stomach. D.C. politicians are concerned about one thing and that is getting re-elected. Therefore, they are not going to work with politicians on the other side for our good if it means giving credit to their competition. How many times have you seen old news reels where those who are now opposing a boarder wall were supporting one 5 years ago but because the President wants a boarder wall now, they are against it. This is the purest form of playing politics today. If the other side wants it, I don't want it. We should be flooding D.C. with messages to either get your act together and do something for those who put you in office. If you don't, we are going to get rid of you. It's that simple. When people like this are running our country, there is no reason to be encouraged.
Dollars and Sense – January 9, 2019
Question: How much money should someone have in order to retire comfortably?
Answer: If a million people were to ask that question, the answer would be different for everyone of them. There is no magic formula that works for everyone. First and foremost, you need to determine what lifestyle you intend to live in retirement. If you are going to relocate to some deserted island, live in a small hut and live off of the land, you won't need much income. If you are going to live in a large city where the cost of living is higher, you will need more. I'm not trying to poke fun at your question but there is so much to consider. Will you still have debt when you retire? Do you plan on traveling? Do you have family members who you help out financially? Do you plan on trading vehicles every 2 years? How high are your real estate taxes? Do you have expensive hobbies or recreation? Do you own an older home that will require a lot of repair work in the coming years? If you can answer these questions and many others, you are in a better position to determine your needs in retirement. If you can't answer them, you are not likely prepared for retirement.
Question: Is buying a second home for vacation purposes a good investment for the future?
Answer: I have never had someone tell me that they bought a second home for investment purposes. Most people who buy a second home do so to either escape winter weather or, they buy it on a lake for summer recreation. That doesn't mean they won't make money off of owning a second home when they decide to sell it. I just don't think most people buy it with that in mind. If you decide to buy a second home for investment purposes, be aware that real estate values are cyclical. We all should have learned that lesson over the past 10-15 years when real estate values crashed and a lot of money was lost. It's an even bigger risk if you have to finance the purchase of a second home because you have to repay the loan whether the values remain the same or not. Banks are funny that way. They still expect to be paid whether you made a good deal or not. If you really don't have a great interest in going south for the winter or living on the water during the summer, I'm not sure buying a second home for investment purposes is the right way to go. If you do enjoy those things and you can afford it, then you should do it.
Question: How does FDIC insurance work in insuring my deposits at a bank?
Answer: FDIC insurance makes your deposit in a bank the safest type of investment you can find. This government agency was formed after the great depression in the 1930's when banks were closing daily because people panicked and withdrew their money fearing banks would fail. The creation of the FDIC was probably the biggest single event in banking history. Your bank pays premiums or assessments based on the amount of deposits they have. This assessment is used to fund the agency and to cover losses should they ever occur. It also goes to cover the cost of FDIC examinations that occur from time to time. These examinations are conducted by trained individuals who look to see if your bank is conducting risky or questionable practices. If the examinations do not go well, the assessments are higher. What most people do not take into consideration when comparing bank interest rates vs. other types of investments is that the interest paid by your bank is not their entire cost of offering the product. We also have the premiums of assessments to pay which insure your deposit which makes it so safe for you.
Dollars and Sense – January 2, 2019
Question: We read all the time about these rate increases made by the Federal Reserve Bank. Do they really matter?
Answer: In the short term, they probably don't mean much to average American citizens. In the long term, they do have an impact. The Fed tries to manipulate the economy with these rate changes. If they think the economy is growing too fast, they raise them. If they think it's growing to slow, they lower them. While we pay attention to these changes, most community banks do not make an immediate change to their internal deposit and borrowing rates. As time passes, we are more likely to make changes based on collective changes. To most small communities scattered across the country, these Fed rate changes don't cause management to sit on the edge of their seats waiting to see what they are going to do. I seriously doubt these rate changes will change your way of life but you should be aware of them. Large corporate America will feel more of an immediate impact.
Question: I'm at a point in my life where I am pretty conservative with my investments. Is this normal?
Answer: Well, you didn't mention your age but most of us lean toward being more conservative as we get older. However, each of us have a different view on what is conservative and what is not conservative. What might seem conservative to one isn't conservative to another. Neither I nor anyone else can tell you what is best for you. As I have said many times before, each person has to determine for themselves how much they can afford to risk. If you can't afford any type of loss at all, you shouldn't gamble with your investments. Don't chase high interest rates if you can't afford the loss. There is a reason why those types of investments have high rates. It's because they come with a risk. I know this advice may sound vague to you but it really is an individual thing. No one can tell you what is best for you without knowing your personal financial situation. Whether it's your banker or financial planner, if they are not familiar with your financial condition, they should not offer advice on what is right for you.
Question: If I bought rental property, would the rent I decided to charge be based on how much I paid for the rental?
Answer: I think most experienced landlords would tell you that you want a bare minimum of 10% on your investment after you factor in taxes, insurance and repairs. For example, if you paid $40,000 for the property, the rent will need to be at least $500 per month to cover these costs to get a 10% return. Personally, I would not want to cut it that close because there are always unknown things that come up. A new furnace could wipe out several months of rent. There is another aspect that is just as important if not more so. There is a limit as to how much people will pay in rent in a smaller community. For example, I wouldn't pay $80,000 for a rental property because you would need to charge $1,000 per month in order to get a good return on your investment and there are not many renters who can pay that much. For this reason, most rental properties in smaller towns sell for under $50,000. If you pay more than this, you risk having a vacant rental from time to time. Most purchases above $50,000 are going to be owner occupied and not rentals.
Dollars and Sense – December 19, 2018
Question: Are Holiday gift sales up due to the economy?
Answer: There won't be any official sales numbers for several weeks or even months. However, I would assume the numbers will be up due to a stronger economy. I have never understood why this happens but it does. When the economy improves, people have more cash and they spend it on gifts for Christmas when they should be putting that extra money away for those times when the economy is not so good. As the old saying goes, the money just burns a hole in their pockets and they can't wait to spend it. The U.S. economy goes through cycles. It doesn't stay good forever. If you insist on spending that extra money when times are good, at least spend it on something that you can use on an ongoing basis. Don't use it on something that is short lived like more expensive gifts. When those credit card bills start rolling in January, don't have regrets on what you have done in December.
Question: Are there any statistics on how much of the credit card spending on Christmas gets repaid as soon as the bills come in?
Answer: I have never seen any numbers on this subject but my guess is that the numbers are not good. I base this opinion on the fact that credit card debt overall continues to rise. I would not be surprised if less than half of credit card spending on the Holidays gets repaid in January when the bills come in. Some of those who do not pay the full amount take the entire year to repay the debt and some even longer. Credit card spending on Holiday gifts is probably one of the most serious financial issues individuals face and there is really no reason this should happen. It doesn't matter what your income level is. There is no need to spend more than you can pay back. If your children do not understand this concept, you didn't do a very good job on educating them about finances and your particular household financial condition. Most older adults did not grow up believing they would get everything they wished for and neither should you or your family. The best gifts you can give your family do not come in packages.
Question: Does everyone need life insurance?
Answer: I have always viewed life insurance strictly from the financial loss point of view. People should not profit from life insurance. If you have dependent children and/or a spouse that does not work, life insurance can provide for those left behind without a means of support which is appropriate. If you have neither but you have limited cash assets, having enough insurance to cover the expense of your death is appropriate. If you have neither and plenty of cash assets to cover your death expense, life insurance only serves the purpose of enriching someone as a result of your death which is not the purpose of life insurance and I don't see the need for it. If you already have the policy, keep it. However, if you are contemplating the purchase of life insurance, you might want to consider the scenarios I mentioned to determine the need for you to purchase it. Those who sell life insurance may not agree with this view but I think from a financial perspective, it's the proper way to view it.
Dollars and Sense – December 12, 2018
Question: Where does all the money come from to pay for the Welfare system?
Answer: Sorry to break the news to you but if you are a taxpaying American, it comes from you. The Welfare program was introduced during the Franklin Roosevelt Presidency in the 1940's. The original intent was to care for those who truly needed help financially. Unfortunately, as with most government programs, it has become a corrupt system. Some statistics state that nearly 50% of all recipients of Welfare are doing so fraudulently. Welfare, Food Stamps, Housing Assistance, Cell Phones and several other subsidies have made it easier for individuals to avoid getting tax paying employment. Many Americans are 3rd generation Welfare recipients. While the program was initially a good thing, it became too big for the government to manage and it is out of control. The longer it goes on, the harder it becomes to make it legitimate and to do away with the cheaters who do not deserve to receive benefits. There is not another government program that needs to be fixed more than this one. I'm not optimistic.
Question: Some are predicting another recession. If so, will mortgage rates come back down?
Answer: First, there is no evidence yet of a recession any time soon. The only thing that would cause that to happen is fast moving inflation which has not yet occurred. In answer to your question, when we do have another recession, it will impact interest rates. It always does. However, I don't believe we will see mortgage rates as low as they were a couple of years ago anytime soon. It could be 20 years before that happens. When mortgage interest rates got down between 2% and 3%, that is as low as I have seen them in my 40 plus years in banking. We have not seen anything remotely close to those percentages in probably a century. Before you wish for those rates to get down to that level again, just remember that they were brought on by a combination of the real estate crisis and the worst recession since the Great Depression back in the 1930's. We sure don't want either of those events to happen again.
Question: I don't see many houses selling in our community. Is it the economy or some other reason?
Answer: The housing market is very cyclical. However, you are correct. Even though the economy is improving, we are not experiencing a high number of home sales. The primary reason is that there is not a big inventory of homes on the market. When homes are put on the market, they seem to sell quickly or within a reasonable amount of time. There are probably several reasons but one could be the lack of speculative homes being built. Therefore, homes are not being listed because there is a lack of choices on replacement properties. Years ago, it was not uncommon to see several homes under construction by builders because there was no fear of it selling when completed. Builders have become more cautious about doing this and rightly so. The other reason inventory is low is that people are more content to stay put rather than upgrading their housing. Others may have different opinions but you are right. Sales are down but there are not a lot of homes on the market to sell.
Dollars and Sense – December 5, 2018
Question: How do you feel about art work as an investment?
Answer: If you don't know anything about it, you will most likely get burned. You are playing a dangerous game investing in things like this. Especially if you are not in a position to take the loss financially. Anytime you have to depend on others advice for investing is risky. The average individual in terms of net worth should never risk money on something they are not knowledgeable about. Everybody is looking for a get rich quick investment and the truth is, they don't exist unless you happen to get very lucky. If you can't afford to lose, stick with things that may not be big paydays but that will give you some kind of return on your investment. You will sleep better at night without worrying about whether you will get your money back. I could tell you countless stories about people who took this kind of risk and they lost a substantial part of hard earned money. As I always tell people, "a return of your money is more important than the return on your money".
Question: Is there a level of auto repair expense at which you are better off trading it in on a new one?
Answer: There are no such guidelines for you to consider in making this decision. Obviously, there are times it makes more sense to trade rather than to sink more money into an existing vehicle. However, I think it is an individual choice. One thing to consider is that the value of your trade in will be severely impacted depending on the level of repairs needed. Most reputable dealers will have to make the repairs before they can re-sell it. A good approach is to consider the value of the car vs. the expense. If you have a car worth $10,000 it might not make a lot of sense to spend $5,000 on repairs. If your car is worth $15,000, then $2,000 in repairs may seem reasonable to you. Especially if you cannot afford a new car payment for 48 or 60 months. Some may find it financially easier to trade the vehicle and make a car payment than to come up with $2,000 for repairs. There are no rules so do what is best for you.
Question: Is the banking business better in the good weather months than the bad ones?
Answer: Almost all businesses are impacted to some degree by the weather no matter what kind of business it is. The impact on the banking business is directly related to the impact of weather on our customer's businesses. If our customer is extremely impacted by the bad weather in the winter months, it will affect their ability to generate income to deposit into their accounts. However, seasonal businesses frequently borrow on lines of credit to get them through the bad months which is a positive to bankers because they lend more money during these months. In terms of net income, the banking industry does not see a fluctuation between good weather and bad weather months. An example of businesses that are negatively impacted by weather conditions would be farmers, landscapers, builders and heavy equipment operators. The banking business is not seasonal. However, when our customer's have bad months, it does impact us to some degree.
Dollars and Sense – November 28, 2018
Question: Is it realistic to use a rare coin collection as your savings plan?
Answer: I won't say it's impossible but I have never heard of anyone doing that. Rare coin collecting requires a lot of expertise to be successful. However, for someone who really knows what they are doing, it could be rewarding. I saw recently where someone paid $50,000 for a rare quarter. This individual either knows what he or she is doing or, he or she has more money than they know what to do with. There are very few people who really know what they are doing when it comes to paying high prices for rare coins. I am certainly not qualified to advise anyone on this topic and I don't personally know anyone who is qualified. Based on the fact that you are asking this question, I would guess you are not qualified either. Therefore, I would stay away from rare coins as a method for saving money. Stick to something less risky unless you have the excess cash to risk.
Question: There have been recent comments suggesting that we could have another recession as soon as 2020. Do you agree?
Answer: I don't agree or disagree with these comments. The experts who are saying this base their predictions on the current rate of inflation. We all know the old saying that "what goes up, must come down." This applies to the economy just like anything else. The economy is currently growing at a pace that we have not seen for many years. If the pace continues, it certainly sets up the possibility of a recession some time in the next few years. I don't know that it will happen in 2020 as they predicted but it certainly could happen in the next 5 years. It's very hard to have a growing economy at a rate that is good but not too fast. Sooner or later, there will be another recession. Let's just hope it isn't soon. It hasn't been that long since we got out of the last one and we are not ready for another one.
Question: Do you discourage people from opening retail businesses in a smaller community like ours?
Answer: There have been times when I have discouraged people from going into business for themselves. If they ask for my advice, I will be honest with them about the potential for success. Unfortunately, most don't ask. They just move forward without any idea as to whether there is a real need for their product. It's a terrible feeling when I see someone start a new retail business venture and I know from years of experience their chance for success is very low. There are some who believe that hard work will make the difference. However, all the hard work in the world will not help if there is not a need for the product they wish to sell. Being in business for yourself is difficult even when there is a need for a product. Take away the need and it's a costly experience. The phrase that scares me more than anything when people talk about going into business is "It's been my dream to own my own business." It scares me because they are making an emotional decision rather than one made from proper research and the use of common sense. It takes more than stocking the shelves and opening the front door. You need buyers.
Dollars and Sense – November 21, 2018
Question: Why am I forced to start taking draws on my IRA when I turn 70 ½ years of age?
Answer: Back in the early 1980's the Federal Government did something that was the best thing ever done for tax payers. They created the Self-Directed IRA which allows us to withhold money from our paychecks tax free until we begin to draw on it. There are individuals who paid into these for over 35 years. It basically allowed us to earn money without paying taxes. This program came with stipulations. One of them was the requirement that when we reach the age of 70 ½, we are required to begin taking this money from our IRA and pay taxes on it. The assumption is that we are earning less in retirement and therefore, paying less taxes. Even back in the early 1980's, they realized that Social Security would not be sufficient to live on and this allowed us to have a supplemental income in retirement. I don't know why they chose 70 ½ as the age at which you have to start taking payments but it seems reasonable and you don't want to do it earlier because there are penalties.
Question: How does our income tax rate compare with most other countries?
Answer: I think it is safe to say that our income tax rate is higher than most other countries. However, our income levels are much higher as well. These crazy people across the country who are pushing for Socialism don't seem to get it. If our country ever adopted Socialism, it would come with a tremendous amount of negative change for us. Our income would be much less, our ability to make our own financial decisions would disappear and we would all live at a lower quality of life. Higher taxes are the price we pay for freedom to live our lives the way we choose. If you pay close attention to those who are pushing for Socialism, they want everything given to them. They don't want to work for what they get. This is not what made our country what it is today and it would be a terrible thing if it were to change. I support our current tax system and the way we live even though I don't always agree with the way they spend our money.
Question: What will be the long term affect on our country with the tariffs being place on other countries as part of the Fair-Trade agreements?
Answer: I don't think anyone can answer that question with any certainty. I think most people agree that the U.S. deserves to have a balanced trade agreement with the rest of the world. However, our allies have had the upper hand for so long it's hard to say how they will react to the radical changes. Our country has been pushed around for decades when it comes to the imbalance on trade. You could compare it to a child being allowed to do something for several years and suddenly being told they can't do it anymore. They react badly sometimes. I think most people in the U.S. agree with what is being done with the Fair-Trade issues. However, it has to be done in such a way that we keep these countries as allies which won't be easy in some cases. If anyone tells you they know what is going to happen long term on this issue, they are just guessing. No one knows for sure.
Dollars and Sense – November 14, 2018
Question: I tried to buy a U.S. Savings Bond at my bank recently. When did they stop selling them?
Answer: I believe it was January 2012 when the federal government stopped allowing banks to sell U.S. Savings Bonds. Prior to this, bonds were issued in paper form and they looked like oversized currency. It was at this point that they went paperless and now you must purchase them directly from the U.S. Treasury. For many years, prior to when we stopped selling them over the counter, sales had been dropping off. They were not nearly as popular as they were back 30 to 40 years ago. U.S. Savings Bonds were called War Bonds for a long time and they were sold to support the war effort during World War II. Many people thought banks just decided not to sell them but this decision was strictly made by the U.S. Government. They would like for anyone holding paper bonds to turn them in for electronic issue but I don't believe it is mandatory.
Question: Are people buying farm land to cash rent?
Answer: I can't imagine anyone paying today's prices for good farm ground with the intent of cash renting for profit. The numbers just won't work. Most farm ground rent is between $100 and $150 per acre. Assuming you are going to pay around $5,000 per acre for farm ground, the return on rent does not justify the price. There are some that can't even make a profit farming at these prices. The only way you can justify buying ground to cash rent is if you are willing to accept that it won't be profitable. By the time you purchase the land and pay the real estate taxes, you can't even break even on the purchase at $5,000. If making a profit isn't important and you are doing it believing that farm ground will go up in value soon, you are taking a gamble. However, I would never discourage anyone from buying farm ground. Just don't do it thinking cash rent will pay for it because it won't. I believe farmers would agree with me on this.
Question: Why is it so hard for a small retail business to be successful?
Answer: The answer to why it is difficult for small retail businesses to be successful is a simple one. It's BIG retail businesses. Over the past 40 years or so, big retailers have squeezed out the little shops that existed in smaller communities. These big businesses are able to buy their inventory at much lower prices than small retailers which means they can sell them cheaper. Sometimes they are able to sell their products for less than the smaller businesses can even buy them. The manufacturers would rather sell to 1 or 2 large chain retailers than to sell to 1,000 smaller ones so they sell to them at cheaper prices. Back in the 1960's it was not unusual to see 3 or 4 men's and women's apparel stores in small towns. Today, it's rare to see any at all. It's a shame that it has come to this but it's reality. Retail businesses today in smaller towns are primarily gas stations, convenience stores, pharmacies and automotive related businesses. It's pretty much the same wherever you go in America today. Dry goods businesses are all gone and, as we know, even grocery stores are hard to keep open.
Dollars and Sense – October 31, 2018
Question: I'm thinking of putting my assets in a Trust to be distributed after my death to my kids over a number of years. Is this the proper way to do it?
Answer: I don't know how often this is done but I'm sure it makes sense in some instances. I imagine the number one reason for doing it is because the parent does not feel that their children are capable of handling all the money at once. Maybe they feel giving it to them over a number of years will keep them from throwing it all away in a short period of time. There are probably other legitimate reasons for doing it but I imagine this is the primary one. Another reason for doing it might be a child who has not had a history of stable employment and the parent wants to make sure they have some consistent income in the coming years. Regardless of your reasons, it's your money and you can hand it out after your death anyway you want. My suggestion is, if you are seriously considering this, contact your attorney and discuss it. He or she will have the answers for you.
Question: How much equity do you lose by building a new home vs. buying a previously owned home?
Answer: Most people build new homes because they want it to be exactly what they want. They don't want to settle for buying a home that may have certain aspects that are not perfect for them. However, home building is very expensive and if someone were to try and sell it shortly after they built it, it's unlikely they could recover 100% of their cost. Maybe in 3 or 4 years inflation may change that but short term, it would be difficult. This doesn't mean you shouldn't build. If that's your preference and you can afford it, do it. However, do it only if you plan to live in it for several years. Home prices are not rising fast enough to build a new home with the expectation of selling it quickly for a profit. Those days are long gone and may not come back unless you have the ability to build it yourself. There is one problem that we have no control over. There is a shortage of existing homes on the market. So, you don't have much to choose from.
Question: I have a large collection of things like antiques and old machinery. My kids have absolutely no interest in these things. Should I sell them before I'm gone or leave it for them?
Answer: This is a frequent occurrence with many people in their later years. They spend a lifetime collecting things that interest them. Then, as they get older, they find that their children have no interest in what they have collected. So, they fret over whether it is best to sell the collection off before they are gone or, leave it for their kids to get rid of which they usually do. There is no good or bad decision in this regard. If your health is decent and you still enjoy having these things, keep them. If you are losing interest and your kids want you to sell it off, maybe it's time to do it. For some, it is really hard to let go of their prized possessions. You only go around once in this life. Do what makes you happy. If keeping these things is your preference, do it. If your kids want what is best for you, they will understand. We do a lot for our kids while they are growing up. In return, they can deal with your things when you are gone.
Dollars and Sense – October 24, 2018
Question: How do small communities like ours survive financially with no growth?
Answer: I think everyone knows that our community has not grown in population for many years and we may have even seen a slight decline. This means that Village income and sales taxes have probably not grown over time. We don't retain our young people as much as we would like when they graduate. It's always been that way. However, there has been and always will be a certain percentage of people who just like living in a smaller community. They are willing to drive a distance for work and shopping but they have no desire to live in a larger community. This is what makes it possible for us to survive. When you consider our low cost for housing and cost of living, it's very appealing to a lot of people. If you doubt the low cost of living, check out the price of housing in the larger communities that surround us and see what it would cost to replace your current home if you were to move away. Housing and real estate taxes are considerably higher than what we experience. We may not see growth but we do have stability.
Question: Are there any tips you can give someone on how to prepare financially for a recession?
Answer: In my opinion, there are no magic formulas on preparing for inflationary periods. However, there are some things you can do to make sure that changes in the economy have little or no effect on your life style. First, when the economy is good, like now, don't go out and find ways to spend your extra money. Live the same way you did when times were bad. The worst thing you can do is to significantly change your lifestyle just because times are good. I realize there are some who want to live as if there is no tomorrow but there is a tomorrow and it might be good or it might be bad. I've seen this happen way to often and it's a disaster waiting to happen. Enjoy life but don't make dumb decisions just because you have some extra money in your pocket. Save some of it for that rainy day that we will no doubt have sometime in the future.
Question: You said in an article a few months ago that we should make our kids work for what they want. Shouldn't we want better for our kids than what we had?
Answer: We want to have a balance in raising our children. There is nothing wrong in wanting your kids to have it better than you did growing up and if you can afford it, give it to them. However, why can't they work for it? The fact that you can afford it doesn't mean you should just hand it to them. If they want something that they could clearly live without, make them earn it. Bill Gates, founder of Microsoft and one of the richest people in the world said, "I want to leave my children enough that they can do something with it but not so much that they don't have to do anything." What he is saying is he will give them a small portion of what he has when he and his wife are gone but he will not leave everything to them so that they can just sit and do nothing. Think about that for a minute and you will see what he is saying. Supply your kids with what they need to survive as they are growing up but make them work for what they want. No one is going to accuse you of child abuse for doing this. People that matter will actually respect you for it. Your kids might not like it but someday they will thank you for it.
Dollars and Sense – October 17, 2018
Question: I have friends who own their homes and they make less money than me and I don't qualify to borrow for a home. Why?
Answer: Your income level is just one piece in the process of qualifying for a mortgage loan. There are other factors. A lender must take into consideration how much other debt you have, your job status, your ability to make the required down payment and your excess reserves to meet unexpected costs associated with home ownership. Maybe you are trying to buy a home beyond your capabilities. There are other factors that come into play as well. It is never a good idea to make comparisons with others to determine your qualifications for credit. Yes, your income is obviously very important but it isn't everything. If you have been rejected for a mortgage loan, you should have been told the reasons why you did not qualify. If you have questions, contact the lender for details so that you can work on improving your situation.
Question: Do banks take things like jewelry for collateral to secure a loan?
Answer: There is nothing that prohibits a bank from using things like jewelry for collateral but it is not something most banks will do. I don't recall a single time in my career where I have done this. The primary reason why lenders stay away from things like jewelry and rare coins for instance is because of the volatility in value. These types of items could see a change of value as much as 40% in a short period of time and it would become a nightmare for bankers to monitor these values to ensure that the value is still sufficient to cover the loan amount. I suppose the same could be said for many other items that are considered to be acceptable collateral for a bank. However, there are some things that experience more fluctuation than others and we tend to avoid these as collateral for the most part. Also, we would have to charge a high rate of interest to offset the risk. Besides, if you need money and you have only your jewelry to offer as collateral, you might want to consider not owning it.
Question: Is using a pawn shop an acceptable way to borrow money?
Answer: I refer to pawn shop loans as "last resort lending." Obviously, there are a lot of people who use pawn shops because there are a lot of them in business. However, most individuals who borrow from pawn shops do so because of the type of collateral they are offering or, due to credit problems. Pawn shops charge very high rates of interest because of the high-risk customers they serve. I won't criticize anyone for using a pawn shop to borrow money. However, if you qualify, you would be much better off going to a financial institution for lower rates. If you question my comment about it being high risk lending, how do you think they get all the inventory of things to sell? They get much of it from individuals who borrowed the money and couldn't pay it back. So, the pawn broker sells the item to recover their money. Pawn shops have their place in the world but most people would not use them for their first choice to get a loan.
Dollars and Sense – October 10, 2018
Question: I heard this crazy thing the other day about people setting up a "Go fund me" page for people to raise the money for a down payment for a house. Is this true?
Answer: In a recent Wall Street Journal there was an article about something of this nature. I think it is just about the dumbest thing I've ever heard. Apparently, people are setting up this fund which allows family and friends to help fund the down payment for individuals or couples who don't have the money for it. What are these individuals or couples going to do when the furnace goes out and they don't have the money to fix it? It's one thing for parents to gift the down payment for their adult children to buy a home but to set up a "Go fund me" website for family and friends to contribute is ridiculous. Whatever happened to the good old days when people rented a home or apartment until they were able to save enough to buy a home? Begging for money from family and friends for a down payment to buy a home indicates a total lack of self-respect. It's just unbelievable.
Question: At what age of your children should parents stop letting their kids depend on them financially?
Answer: There is no clear answer to your question. Some parents are fortunate enough that their kids never look to them for help after they get out of high school or college. Some continue to be a financial burden their entire lives. In most cases, the parents can control which it is going to be. In other cases, some parents want to make their kids financially dependent on them to some degree in order to maintain some level of control. One thing is for sure. If your kids remain financially dependent on you well into their adult lives, they sure won't be able to do it for their kids because they won't have the ability to do it. You will have made them into a financially crippled adult. I don't know about you but I would not want that for my children. There is an old saying that goes something like this. "Give your children enough to do something. Just down give them so much that they don't have to do anything." I think this makes perfect sense to me.
Question: I try to shop locally but the local businesses are too high priced so, I can't do it. Are there others who feel this way?
Answer: I'm sure there are others who share your opinion. However, you don't have the whole story if you don't understand why it is this way. You are comparing the prices locally to prices in a larger store in a larger community which isn't fair. Stores in smaller communities like ours are having to pay much more for their product. So, they have to charge more to make a profit. I understand your dilemma but we have to make an effort to buy local as much as possible. We all know there are some things that cannot be purchased locally and we are forced to travel out of town to buy them. One thing you might want to do is factor in the cost of going out of town to save a few dollars. Consider the cost of gas not to mention your time. You add at least an hour to your shopping by having to travel out of town.
Dollars and Sense – October 3, 2018
Question: Do you agree with everything banks are required to do with their customers in terms of regulations?
Answer: It doesn't matter whether you are in the banking business or some other type of business. You are sometimes forced to follow rules and regulations that you would rather not see in existence. Also, when you are in a highly regulated industry like banking, you have to deal with the federal government having a lot to say about what you can and cannot do and I don't necessarily agree with all of it. Unfortunately, we don't have a choice. When the federal government creates a regulation or law that they feel protects the consumer, we have to follow it without exception. The majority of regulations and laws are created as an over reaction to an event or situation that occurred and not because of some excessive abuse by the industry. Bankers who decide to ignore these regulations and rules do not stay in the business very long.
Question: If I felt there was an employee in my bank who had disclosed something about my personal business, who would I call?
Answer: Our bank has zero tolerance for an employee divulging personal information about a customer. If you believe someone working within your bank is discussing your personal financial matters, I would call the management and discuss it. I would want to know if it ever happened in my bank. A word of caution on this issue. I believe all banks have discussed this issue with their employees and have told them the consequences of disclosing private information. So, be sure you have your facts straight and don't just take one person's word for it. If you determine there is sufficient evidence of this happening, then talk to someone. I can't speak for your bank but if something like this were to occur in our bank and it could be proven, it would be grounds for dismissal but you don't want to accuse anyone without strong evidence. Don't destroy someone's career over an unsubstantiated rumor.
Question: What can be done about getting both people in a relationship to look at financial matters in the same way?
Answer: Some couples can't agree on what restaurant to go to for dinner let alone agree on financial matters. I have seen many situations where one person in a relationship was much more capable of making good financial decisions than the other. Getting the person who is not good at it to accept it is another story. If this situation exists in your relationship and you cannot resolve it, counseling might be worth a try. The one thing you should not do is let it go unresolved. It's too important and it can destroy your future as a couple not to mention your future financially. Your problem is much easier to solve if your partner in the relationship accepts their weakness in this area. I will caution you to make sure this isn't just a situation where you don't want your partner to spend any money at all. However, couples not agreeing on financial matters is near the top of relationship destruction.
Dollars and Sense – September 26, 2018
Question: I see a lot of banks are doing away with tellers in their lobbies and going to machines? Is that the way all banks are heading?
Answer: Although there are reports that this is happening in many larger banks, you won't see us eliminating all tellers in our bank for a very long time if ever. The reason larger banks are doing this is to reduce expenses. Employees have been and always will be the #1 biggest expense in any type of business including banking. For smaller banks our size, one of the things that sets us apart is our personal service and being able to interact with people. If we lose that ability, we become just like bigger banks and we don't want that to happen. However, who knows what the future brings 20 years from now? The younger generation does not have that need for personal contact. They want to do everything through a computer or cell phone. In future years, not having real people to wait on customers might not matter to the next generation. For now, you will be greeted by human beings when you come into our lobby.
Question: Will there ever be a time when no bank will issue a paper bank statement for my account?
Answer: We are getting very close to that point. At least 90% of all individuals have either a cell phone or computer or both. If you have these devises, you really don't need a paper bank statement. Most banks either don't offer a paper statement or they do but you will pay a fee for them. The biggest reason this is happening is cost associated with sending out statements. Postage is very expensive not to mention the cost of paper and printing. There is no type of industry that hasn't gone through significant change and banks are no exception. I remember when we first told our customers that they would no longer receive cancelled checks. You would have thought the sky was falling. However, no one even misses not getting those cancelled checks because they serve no purpose. The same will happen with paper statements. It's just a matter of adjusting to it. For the time being, many banks will give you a paper statement if you will pay a fee for it. The time will come when you don't even have that option.
Question: Most banks used to keep later lobby hours at least one day a week. Few of them do anymore. Why?
Answer: The main reason banks do not have a day in the week when they keep later hours is because it is not necessary. The way people conduct their banking is much different today. Many years ago, banks used to stay open on Friday evenings until 6:00 to 7:00 p.m. to accommodate factory workers who didn't get off work until late and they needed to cash their paychecks or deposit them. Today, most companies have direct deposit of paychecks. In addition, we didn't have the technology back then that we do today. There were no cell phones or computers. Staying open later on Friday evenings was a necessity to accommodate the needs of customers. It was very expensive to staff for these extended hours so when it was eliminated, it was a good thing for us and I don't believe many customers are inconvenienced from not having them today.
Dollars and Sense – September 19, 2018
Question: I have noticed interest rates are going up and Prime Rate is now 5%. Does this affect the rate on home mortgages?
Answer: It certainly does affect residential loan rates. It may seem like it was a long time ago but mortgage rates were below 3% just a few months ago. As a matter of fact, it wasn't all that long ago that we were seeing 30 year fixed rates as low as 2.75%. It may be a very long time before we see those rates again. A lot of home owners missed out on refinancing their homes at 2.75% thinking they might even go lower. It's too late now. However, rates are still fairly low compared to 20 or more years ago. I can still remember back in the early 1980's when residential loan rates were over 12%. I hope we never see that happen again. Interest rates are not something you can ever consider as stable. They are constantly changing for better or worse. Based on what the Federal Reserve Bank is telling us, we can expect more increases in 2018.
Question: How do you feel about individuals being able to get mortgage loans with 5% or less for a down payment?
Answer: Almost everyone has a dream of owning their own home and not having to pay rent. However, I am not a big supporter of home ownership without the borrower having something substantial at risk. My reason is simple and it is supported by what happened back in the early 2000's during the housing crisis. The biggest cause of the crisis was homeowners having very little to lose by walking away from their homes when real estate values crashed. There is absolutely nothing wrong with young people having to rent a house or apartment until they can save a sufficient amount for a down payment. I did it and so have millions of other Americans. The bigger issue is credit quality. If a person has good credit, stable employment and good debt to income ratios, buying a home with just 5% down is more acceptable. If these things are not present, buying with little or no down payment is harder to accept.
Question: How often should I check my credit bureau report?
Answer: There was a time when it was not necessary to ever check your credit bureau report. Today, it is not a bad idea to periodically do it just to be safe. Fraud has become more prevalent than ever and if someone has used your identity to obtain credit, it would show up on your credit report. I don't think it does any harm to check it once a year. There is no harm in doing it more often than that if you prefer. Thousands of people every day are victims of identity theft which can result in more damage than having your home actually broken into. Your credit rating is something very personal and it should be protected as much as possible. Up until the last 3 or 4 years, checking your credit report had the risk of affecting your credit score. The process is much more refined these days and it has no impact on your credit score when you check it. Just for clarification, when someone accesses your account because you shared your PIN, or allowed them to use your credit card, it is not identity theft. It's stupidity on your part for letting them have the information. Don't ever do that.
Dollars and Sense – September 12, 2018
Question: I have tried everything I can to save money but I can't seem to get it done. Am I like most people in that regard?
Answer: There are certainly others who cannot save as much as they should. However, in general, I think most people can do pretty much what they want to do if they try hard enough. The reason most people cannot save money is that there are other things they want to spend money on and they won't give them up. It might be expensive cars, hobbies, recreational activities, clothes or some other thing that they could live without if they wanted to. I'm very much in favor of people enjoying life. I think it is important to their physical and mental health. However, a lot of people go to the extreme and it sometimes comes at the expense of their financial well-being. As I have said many times before, each person should take a look at their priorities to make sure that their desire to save some of their hard-earned money is as strong as they claim it is. If you are honest with yourself, you might find that your commitment to saving money is not as strong as you seem to think it is.
Question: Do many individuals buy municipal bonds?
Answer: Although some do, most individuals do not buy municipal bonds. They come in two different forms. One is taxable and the other is tax-free. The tax-free bonds earn a lower interest rate. If you are interested in this type of investment, you should understand that there is normally a credit risk. The municipality that issues the bonds must be able to generate sufficient income to pay the money back. There are some bonds that are backed by insurance but do not assume they all are because some are not. My best advice to you is the same I would give for investing in anything. Make sure you understand what you are buying. Read up on it. If you seek advice from a bond expert or financial planner, make sure they know what they are talking about. The bond market can be a good place to invest but it can also be very volatile. Be comfortable with your decision before you leap into a new type of investment.
Question: Have you heard of an investment called a REIT?
Answer: I believe you are referring to a Real Estate Investment Trust. A REIT is the shortened name for this investment. A REIT is usually made up of many different commercial real estate properties. For example, there might be 50 properties in the REIT totaling a value of $100 million, you would be purchasing a piece of this REIT. There could be 1,000 different investors sharing this investment with you but you won't know them by name. REIT's became very popular back in the late 1980's and early 1990's. Although they are still there, they are not as popular as they once were. I've known individuals who have invested in them. What you must understand is that there is a degree of risk. One person I know invested in them and one of the properties was a large shopping center which ended up going under and the investors took a big loss on the project. I'm not a big fan of REIT's and never was. I think they are too risky for the average person. These are better suited for someone who is a very astute commercial real estate investor who has the ability to analyze the properties involved.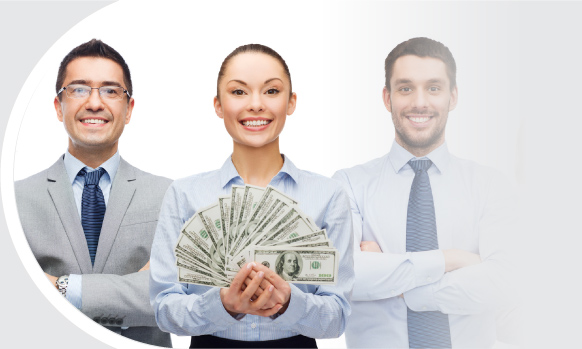 Also need a Financing option for your Business?
Explore our great line of business loan products and their irresistible benefits.
Choose one that best fits your needs today.